I am not a professional runner. Before moving to Jakarta, the furthest I ran was 10k. Weeks into my new assignment in the bustling capital of Indonesia at the beginning of 2019, my colleague inspired me to further my distance.
I have thus become a (more) regular runner. And I did two half-marathons last year with an ambition to finish my first marathon this year.
Introduction done. Let's concentrate now on where I usually run in Jakarta. This won't take much time don't worry, because I have only run at two places.
First is the Car Free Day- I refer to the car free day on Jendral Sudirman Road, the main and largest and perhaps the best-looking street in Jakarta linking the city's north and south. The current format of Sunday Car Free Day, I believe, started in 2012. The road, with the total length of about 5 km is closed from 0600 – 1100 hrs, making it a perfect place for road-running / on-court training.
When to go:
It's held every Sunday non-stop except major holidays like the Idul Fitri / Idul Adha, New Year, so you better check https://www.infocarfreeday.net if unsure.
The time is 0600 – 1100. Many go before 0600 and run on footpath instead until the cars are gone. Depending on the season, after 0630, the sun may be quite strong and after 0730, it may become unbearable.
Why I go:
There are three things I really like about Car Free Day

(1) You can keep track of your distance easily. As mentioned above, the total length of the road is approximately 5km. So if you start, like I usually do, from Patung Pemuda Membangun (known colloquially among my circle of friends as the Pizza Man – please do let me know if Indonesians also call it Pizza Man), you will reach Bundaran HI with the distance of around 4.5 km. Make a u-turn, run back to where you began and that should give you about 9-ish km. If you are training for a half-marathon or a marathon or even a 10k, this is quite a good training ground.
(2) I get motivated from seeing other people run. Through the length of the road, you will see people training for their races proudly wearing t-shirts from their previous running events, people who are dragged out of their beds by friends, and kids racing. It's sometimes good to be reassured that it's not just me going through this (self-made) struggle of regular trainings.
(3) You run with a view. Jenderal Sudirman road is, admittedly, very nice when there is no traffic. I quite enjoy looking at the skyscrapers along the road. And you don't enjoy this on a weekday when you try to get through the eternal macet (traffic jam) that seems like eternity. Hence, another reason to get out of the bed early on Sunday morning.
What to take into consideration:
(1) The transport – Car Free Day, I must say, is good for those who live close to the road itself. It's going to be quite a hassle, if you live in North Jakarta or Pondok Indah. The time you have to wake up and travel with your car to park somewhere close, I suppose, is quite costly.
(2) The weather – it is an outdoor road running route. If it rains, then the car free day will also be free of people. So check the forecast.
(3) The market – As you get closer to Bunderan HI, the great big roundabout surrounded by Grand Hyatt, Kempinski, Mandarin and Pullman, the road is full of hawkers and traders selling everything from water to travel packages. For a runner, you may want to make a u-turn before the roundabout itself as you will find it harder to run. But it's a good place to stop to recharge yourself with some food, water and juice.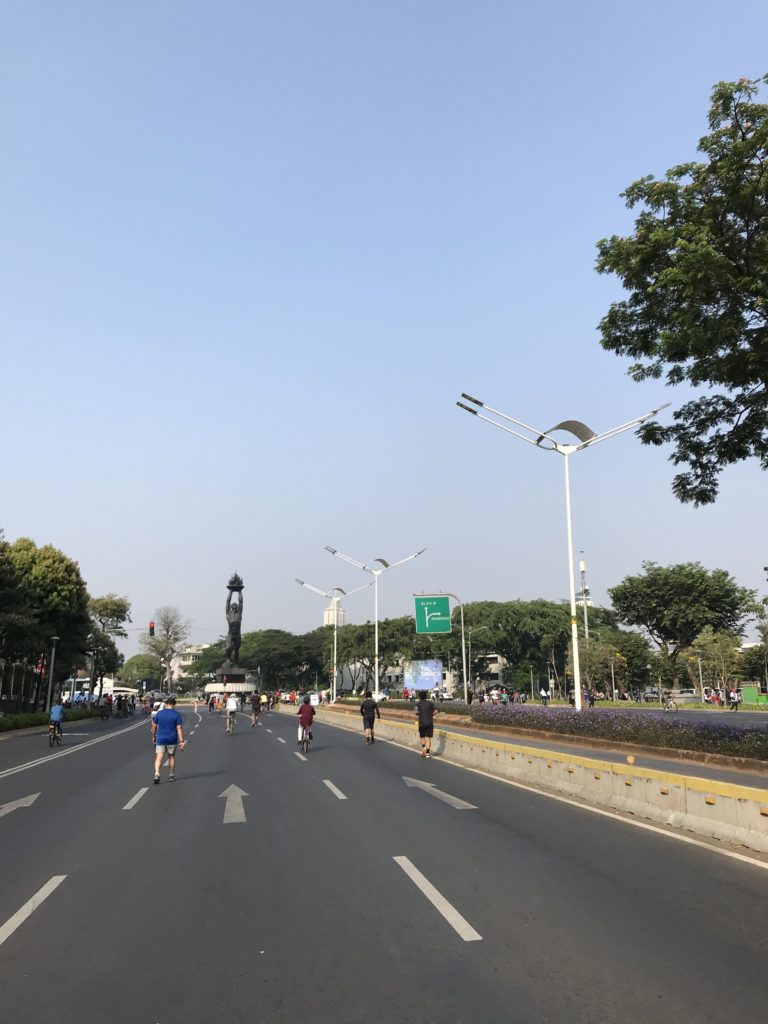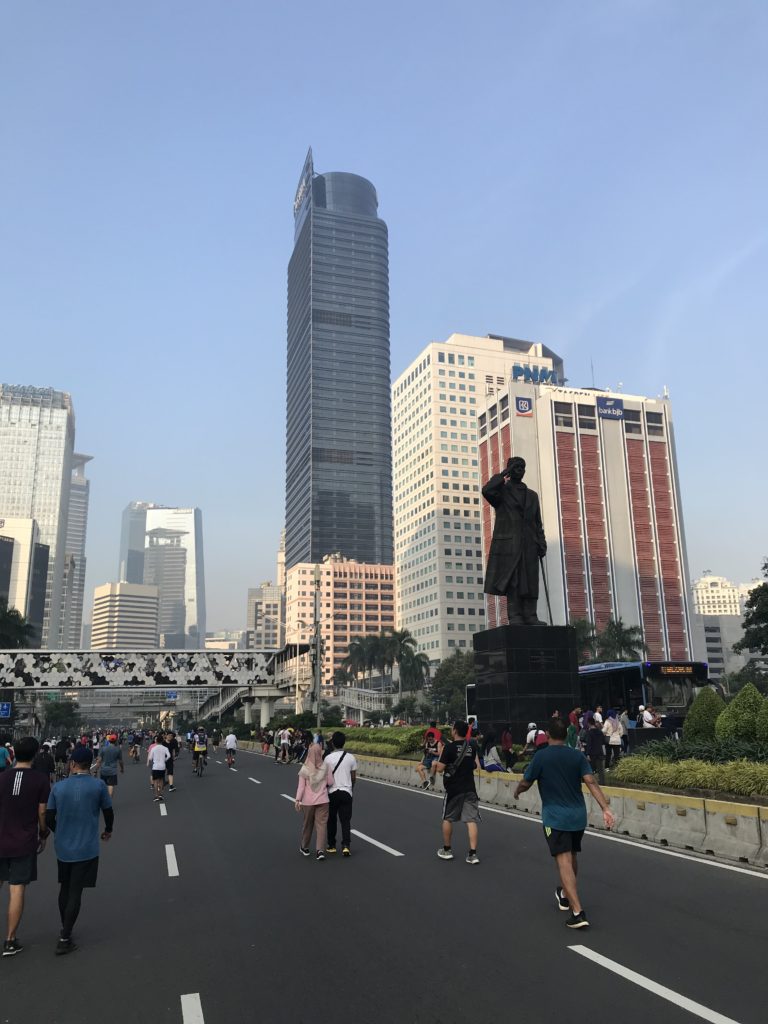 Second is Gelora Bung Karno Main Stadium – Gelora Bung Karno or GBK is Jakarta's main sports complex situated in Senayan area. Named after Sukarno, the first president of Indonesia, the complex was first used as a venue for the 1961 Asian Games. Following major renovation, the stadium welcomed athletes and keen spectators to the 2018 Asian Games.
I suppose GBK has been a place where Jakartans go to when they want to exercise since its first day. Yet the renovation for the 2018 Asian Games was a major boost that has since motivated people to get out and about. I first ran at GBK with my Indonesian counterpart. Basically you run in a circle, around the main GBK stadium. Each round is roughly 1 km.
When to go: It opens all day from about 4-5 am and close at around 9-10 pm.
(I usually go at night). That said, this is a place where Indonesians come for concerts, political rallies, and large public gatherings. So if you don't live nearby, I suggest you check first before physically arriving here to avoid disappointment. Here is the website https://gbk.id
(I also phoned them once to enquire whether the stadium had any event the following day, and it worked! The person who picked up the phone knew the schedule/request for use of the stadium.)
Here are the reasons why I go running at GBK:
(1) Parking Space – On a normal day (weekends included), you can almost always find a parking space. There are dedicated parking lots around the stadium itself. Alternatively, you can also park at some arena in the compound and walk to the stadium.
(2) The motivation – It's slightly different from the crowd you see at the Car Free Day. There are exercise groups who frequent GBK. So you will see people doing push-ups, core training or aerobics in groups. There are a few running clubs who run around GBK on a regular basis too.
(3) Easy to keep track of the distance – each round is 1 km. So if you are practising for a marathon, you just run 30+ rounds around the main stadium. But this very fact of running in circle leads me to the points to consider.
What to consider:
(1) Circular run makes it difficult to keep your motivation high – from the very fact that you run in circle, with no clear starting / finishing points apart from your smart watch or fitbit. This makes you constantly thinking when this ordeal will end. There will be times when you think "I have run 5k already but how come my watch is showing 2.5k. Ideally, I prefer linear run as it is easier to pinpoint landmarks and (for me at least) it's better psychologically as you know, with ease, how much you have run and the remaining distance. i.e. helping you to cheer up your internal organs and spirit.
(2) The weather – similar to the Car Free Day run, this is outdoor, so you'd better be prepared. The stadium roof does offer some shade but that's not really enough for you to run comfortably when it rains or in the scorching sun. though given the opening times, you can actually choose to come when the weather is nice, unlike Car Free Day when the timing is more specific.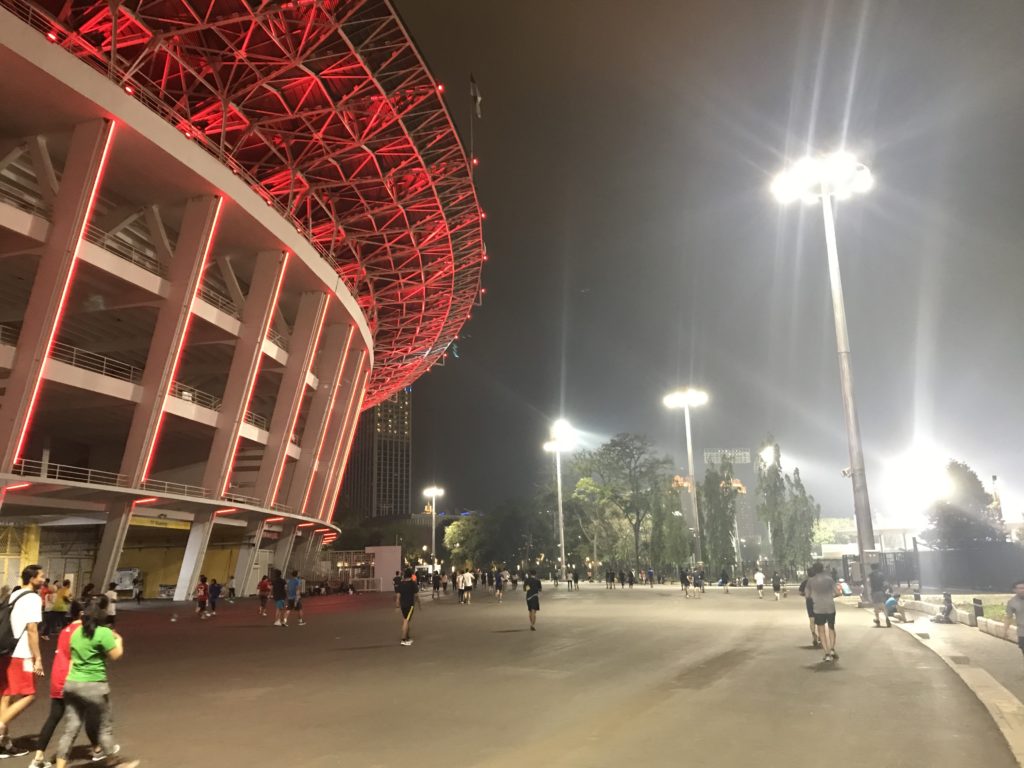 That's about it. These are the two places where I go running in Jakarta (apart from the gym). I know some expats do run at Ragunan Zoo but I haven't explored that one yet due to the distance from my apartment to the zoo. Hope what I have written will give you a glimpse of what it is like running with the crowd in these two popular places.
Till next run then!
323 total views, 1 views today