Running long distance has been around for decades if not centuries but it has become somewhat a mainstream endurance training for working-age people including myself quite recently. I started running long distance thanks to my friends at university in London who took me to run along the Regent Canal, a stretch of water that goes all the way from Kings Cross to Camden and Paddington.
I first joined running events around the same time as when I started working. After my first 5K event, it then escalated rather quickly. The pleasure could be found not only during the run, but also (or rather more importantly) after the run. In Thailand, this is very critical and a make-or-break factor for a running event. It is the food stalls to refuel runners after sweat-filled half-hour or more.
When I was posted in Jakarta in 2019, most of my colleagues at the office ran long distance. And I was 'tricked' into paying for a place for half marathon at the 2019 Jakarta Marathon. That also deserves a post of its own. All the joy had to be temporarily suspended due to COVID-19 pandemic. When running events were finally resumed, I did not hesitate to join the one of the popular running events in Southeast Asia, the Standard Chartered Singapore Marathon (SCSM). It is known (to me at least) for its excellent organisation.
The event is usually held during the first week of December. You can do a 5K, 10K, Half Marathon or a Full Marathon. If single distance category is not enough for you, you can also opt for 'double-up challenge' where you can add on 5K or 10K to your full and half marathon categories.
In 2022, the SCSM was held during 3-4 December. I flew from Jakarta on 3 December, collected my race pack at Sands Expo and Convention Centre.
The weather was rather humid on 4 December which was my race day. I walked with the crowd. Everyone I found on the street was going in the same direction, the F1 Pit Building where we would start. Around half an hour before the gun time, rain poured. I took shelter. We were told to wait since the meteorological office of Singapore was concerned about the lightning risks which I was very grateful for. Sky was roaring. And after around an hour, we were told to get ready. Amidst the rain (without the roaring now), we began the run. It would have been nicer (for me) to run in the dry but I must say that the rain had made it much cooler which made a lot of difference especially for someone like me who did not have time to sufficiently practice for it.
The course went through certain landmarks including Singapore Flyer and the Marina Bay area. Running into the heart of this city state's CBD was also quite an unforgettable experience. By the time I reached the National Stadium, which was the finish line, the rain had stopped. Everything was clearly marked. Water and ionised water were plenty. At the last KM and at the finish line, my girlfriend came all the way from the hotel to support and I must salute her for that. After the finish line, crowd control was second to none. Runners were made to form straight line without blocking any finishing runners. While that meant we had to walk almost another kilometre after a long run, I could not complain.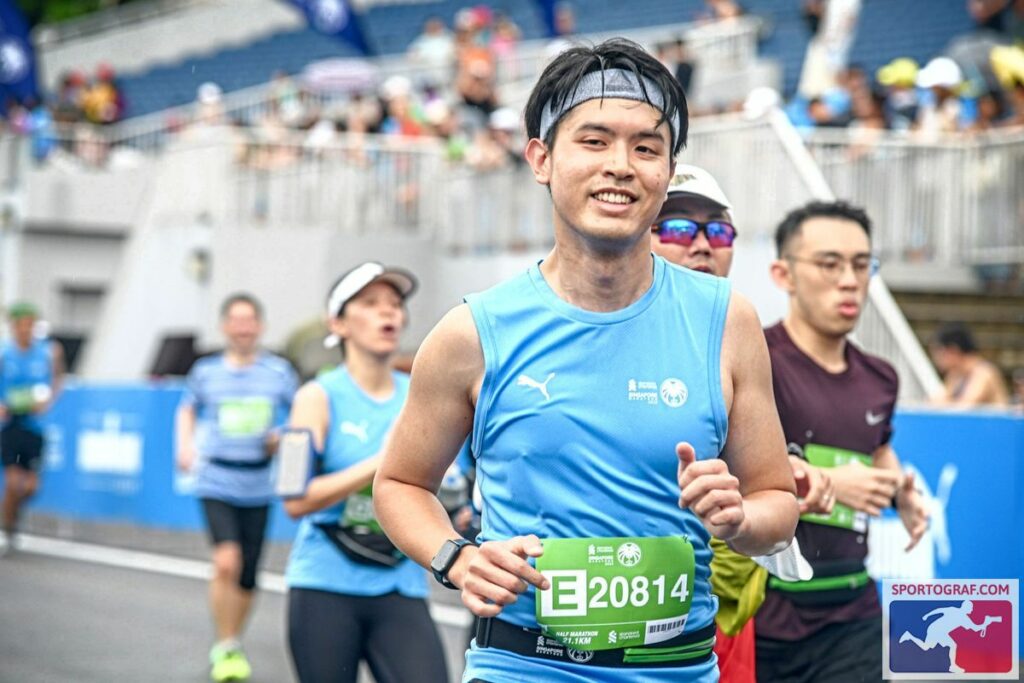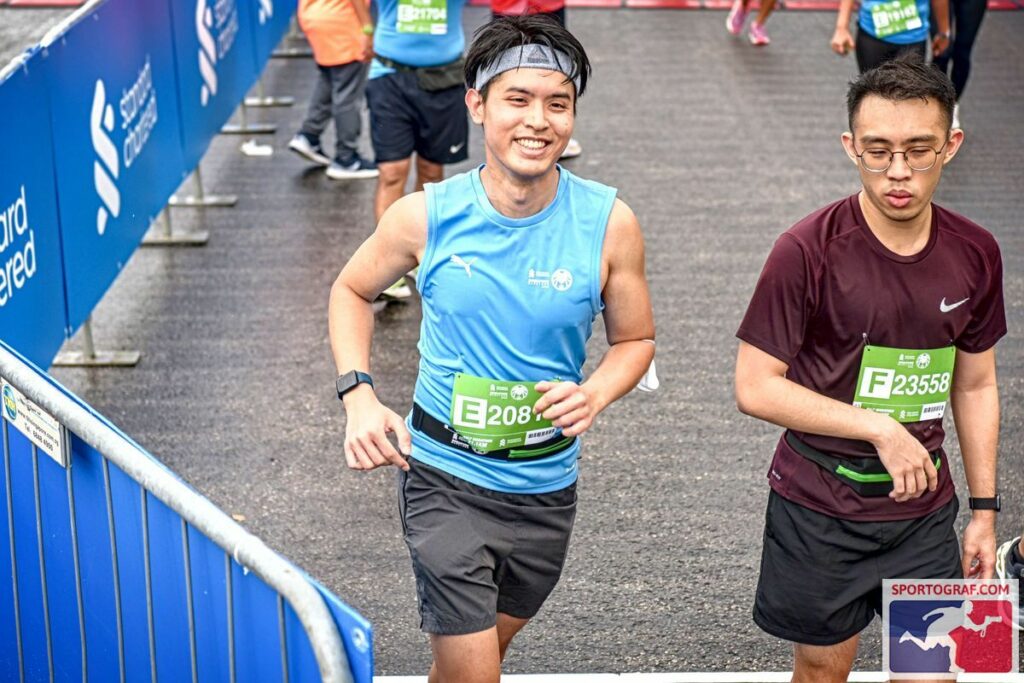 "Smile for the Camera"
All in all, it was a really good course. It may not be as adventurous as some other events but it has everything you would expect a good running event to have. I have registered myself for the SCSM 2023 and I am pretty confident it will be another good run!